Today we have a convo with some one who's grind and determination is serious and who's belief in his journey is clear AFP's Young Hunt.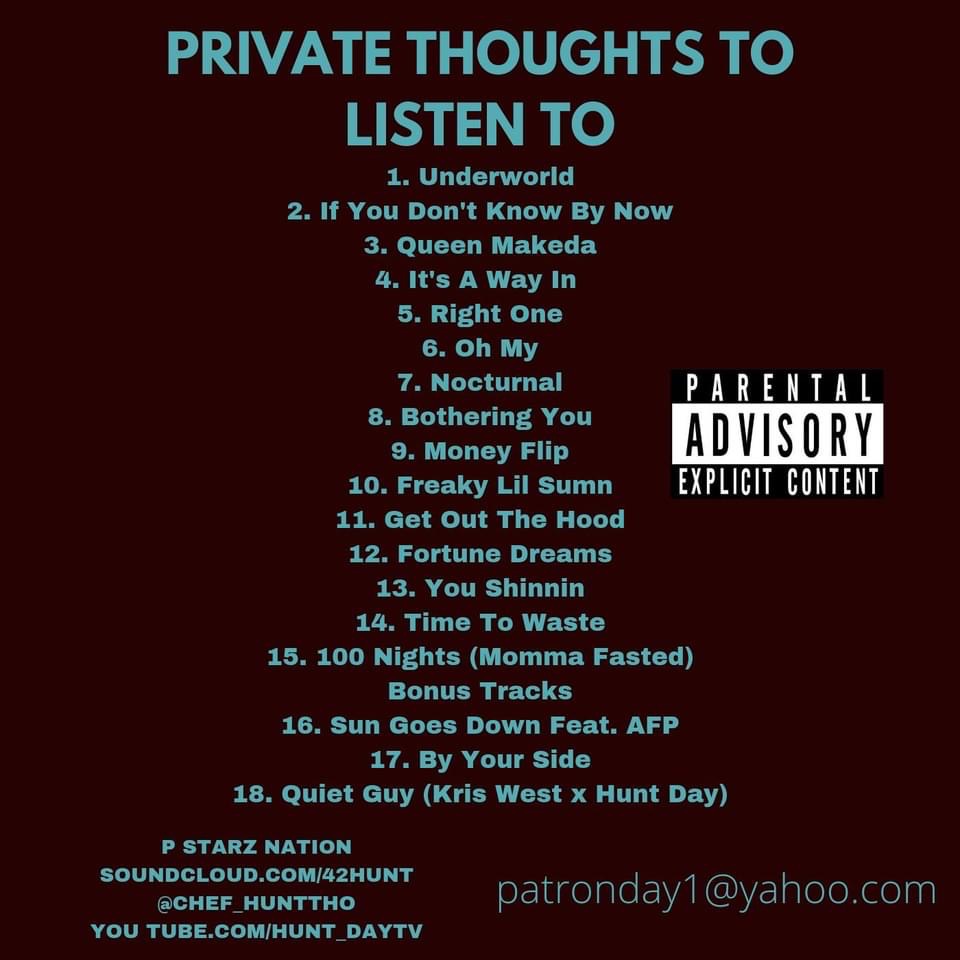 Mistajay: What area are you reppin?
Young Hunt: I reside in Clayton, NC but I am around diff areas so I'll just say North Carolina all together
Mistajay: What are your influences of your music? And what inspires you?
Young Hunt: I've had many musical influences from Rap, R&B, Pop, Old School music just everything that has substance or gives me a certain feeling depending on the mood I'm in.& I get inspired from the things that I see on a everyday basis no matter good or bad.
Mistajay: How do you describe your style?
Young Hunt: My style is very straight forward I believe I can take it to different platforms especially once you get to some of my melodic songs. I just work on being versatile so it ranges depending on the song subject.
Mistajay: What is your best song recorded to date and why?
Young Hunt: I have so many songs that I have recorded including group songs and solo ones but I love my song off of my previous mixtape "Carolinas Own" called "Pray About It" it just gives me a feeling on the inside that things will be alright regardless of what u go thru.
Mistajay: If you could share the stage with any 3 artists or bands who are still around and touring, who would they be and why?
Young Hunt: My 3 people would be 2pac,Flavor Flav, and Michael Jackson just simply because the energy of each individual and the hunger you received anytime you watched their stage presence.
Mistajay: Where do you see the hip hop going in 2011? How do you see yourself fitting into that?
Young Hunt: I believe hip hop is in a state where music will have to be more thought out because its alot of people doing it. I think it can be a bit over saturated at times with catchy hooks and witty lines but it will make our youth appreciate the true poets who come. I believe I will fit into the game by giving what I have to offer and that's sounds that are pleasant. I believe God will bless what I've been working hard for and help bring forth my whole movement.
Mistajay: What are your future plans?
Young Hunt: My future plans are to just network and continue to work hard on what i believe in. I think that I will get to a level where I'll be able to make a movie and people will get to see my life as a whole and relate to what I'm sayin' in my lyrics more so. Its going to be a long ride like it has been but I'm a firm believer in faith.
Mistajay: Any last thoughts?
Young Hunt: I just want people to understand that life is beautiful and music is my outlet whenever I need to get things off my chest and it helps me with some of my thoughts.
Mistajay: Where can fans follow you and get your music?
Young Hunt: facebook.com/jonathiel , myspace.com/patronstarz , datpiff.com search for carolinas own, twitter.com/huntday42
King - Yung Hunt (official music video)
http://www.youtube.com/watch?v=qpjZj39qR6k
NEXT MONTHS FEATURE Celebrating 10 Years of the Underground Experience Feature !!
Mistajay is doing a monthly interview feature the underground experience on the blog www.empiremusiq.com/blog and would like to interview you for this new post please contact nccceo2@yahoo.com to publicize any new projects that you have coming up thanks for your time. Donate or pay $50 dollar interview fee below!!
Pay NCC Records INC using PayPal.Me (connect this URL: Pay NCC Records INC using PayPal.Me
Pay NCC Records INC using PayPal.Me
Go to paypal.me/NCCRecords910INC and type in the amount. Since it's PayPal, it's easy and secure.