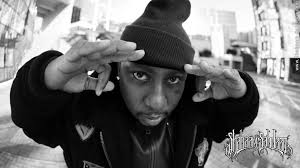 NEXT MONTHS FEATURE Celebrating 10 Years of the Underground Experience Feature !! This month's feature is an alt artist that has a conscious mission to preserve and enlighten the culture……..lets roll through the BK with…….. Shabaam Sahdeeq
Mistajay: What is the story and conception behind your emcee name?
Shabaam Sahdeeq: Shabaam means righteous in ancient Hebrew and Sahdeeq means truth in Arabic I thought it would be cool to make a name from 2 different cultures/religions that don't get along really and make it mean one thing righteous truth
Mistajay: What area are you reppin?
Shabaam Sahdeeq: I rep Brooklyn NY. I was Born in kings county hospital and lived in Vanderveer houses back when it was still a housing projects until I was 13. Although I've lived throughout Jersey (Jersey city & Teaneck) and in the Bronx for some time as a teen. I'm still Brooklyn to the core, lived in Brooklyn the longest of anywhere I lived. I've Been in Bedford Stuyvesant for the last 15 years and I'm not leaving no time soon unless my tax bracket change...lol
Mistajay: What are your influences of your music? And what inspires you?
Shabaam Sahdeeq: I'm inspired by life, books, my children, art, travels, history, current events and I'm influenced by all types of music and all the pioneers before me.
Mistajay: Your bio describes you as an alternative hip hop artist how you describe your style?
Shabaam Sahdeeq: Alternative because it's intelligent yet still street but very much conscious. A lot if people say underground or boom bap. But I can do all types of hip hop and I can fit rap lyrics into different genres of music as long as it has beat to it.
Mistajay: After the "Simon Says" Remix along side your label mate Pharoahe Monch can you describe the effect of the tract on your career?
Shabaam Sahdeeq: It basically made my name known a bit, and opened the lane up for me more. It would have been bigger for me if there was a video.
Mistajay: What is your best song recorded to date and why?
Shabaam Sahdeeq: My best song recorded to date to me is "Seasons Change" every aspect of it is perfect for me, from the beat which is smooth and classic sound, to the video with my son as a co star drawing me as a cartoon coming alive. To the lyrics which are positive but still hard to the hook which is giving praise to God without sounding preachy or gospel and still getting at the biters and corny artist. It shows my elevation with the pen.
Mistajay: If you could share the stage with any 3 artists or bands who are still around and touring, who would they be and why?
Shabaam Sahdeeq: "The Roots" because they are the epitome of a hip hop band and been touring for years. Plus Black Thought is one of my favorite emcees. I can learn a lot from them as far as showmanship. KRS ONE because he is the greatest hip-hop performer ever and the teacher. I aspire to be a teacher/scholar like him that can give u a memorable performance. And last but not least Nas just cause he is one of my favorites. Other than that I've blessed the stage with a lot of greats already.
Mistajay: Where do you see the hip hop going in 2014? How do you see yourself fitting into that?
Shabaam Sahdeeq: Hip hop is going to go back raw and intellectual and being more versatile like back in the 90s. Where u can go from Snoop Dog to Outcast to Nas to Tribe called quest and they all be mainstream. Now a days they mostly play trap style rap on the radio, there is no variety. I see my self being a spokesmen for "grown folks hip hop" attacking topics tailor made for grown people raising kids Struggling but still making it From a hip hop/ street perspective.
What are your future plans?
Shabaam Sahdeeq: My future plans are to drop at least 10 new projects in the next 2 years with videos. Tour a lot and then start to invest some time and money into a new young artist, my label, and get into acting and film.
Any last thoughts?
Shabaam Sahdeeq: Think it, follow it, and live Whatever u want to be. The law of attraction is real.
Where can fans follow you and get your music? Shabaam Sahdeeq: Www.Shabaam-Sahdeeq.com