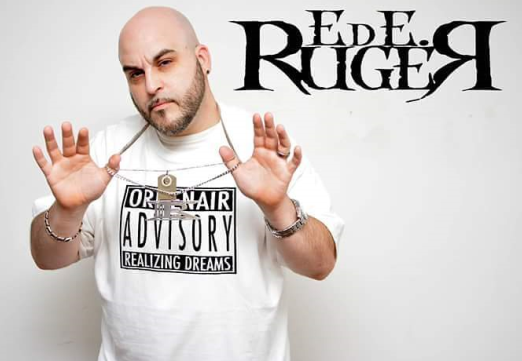 This months feature is hip-hop artist standing in the gap for the tre4….let's ride through Dubboro with…… EdE.Ruger:
Mistajay: What is the story and conception behind your emcee name?
EdE.Ruger: To make a long, complex story short, it was given to me by friends in my younger days when I was a little bit more wild.
Mistajay: What area are you reppin? What is the hip hop scene like there?
EdE.Ruger: I rep Carolina, Dubboro, specifically. Better known as Greensboro,NC. The scene here is great. We have built alot of homegrown support over the years, without much help from the industry or mainstream media. Its purely built on hardwork & talent from myself and the other artists around here. I can't tell you in words how much it means to have true fans supporting your shows. Not just rappers and friends of rappers, but fans who specifically come out bc they know they're gonna see great hip hop from great performers. They buy the albums, shirts, tickets, etc bc they're proud to rep the scene and want the world to know. The support from the scene is one of the things that keeps me motivated. That's what sets it apart from just having a city with a ton of open mics or showcases. We have built the scene up and started throwing actual concerts. The type of concerts that are talked about for weeks after. That's the scene we have here in the 336 from my view. Some may disagree but I love the scene here in Greensboro. We have a very deep talent pool & awesome fans.
Mistajay: What are your influences of your music? And what inspires you?
EdE.Ruger: I'm influenced mostly by my surroundings and experiences in life. Ive always used my music as a to vent and get my emotions out. Its always been a way to balance my life,to kind of fill the voids I had growing up & use it as a way to get away from the everyday stress of life. My inspiration comes from my wife, my daughters, my family and the people i surround myself with. My music has always been more influenced by real life than it has been by other music. That being said, the music I listen to has always been a huge part of my life. Some musicians I look up to are Redman, Killer Mike, Scarface, Eminem, B.I.G. , Outkast, Goodie Mobb, Wax, Kool G Rap, Cypress Hill, Tech N9ne, Rage Against The Machine, Red Hot Chili Peppers, Beastie Boys, etc. I could go on for days.
Mistajay: How do you describe your style?
EdE.Ruger: 1 of a kind. Extremely diverse. A roller coaster ride. In your face,fast paced, sometimes abrasive, yet fun and relatable. I have a something for everyone to vibe to on my albums.
Mistajay: With a laundry list of monster collaborations w/ artists like Bun B, Stat Quo, Rittz, Wax, Guilty Simpson, Sadat X, Whitney Peyton, Blind Fury, Nappy Roots' Scales Kosha Dillz, Shotty Horroh, Swave Sevah, Bekay, Jelly Roll, KrumbSnatcha Of The Gang Starr Foundation What is your best song recorded to date and why?
EdE.Ruger: It's impossible to narrow it down to just 1. That's more of something the fans should decide. From the feedback I get from fans I'd say it's between "Old Man" from my first album or "Good Day" from my latest album. Those 2 mainly because they talk about situations that have changed my life. Those 2 songs represent very important transition times during my life. 1 about growing up without my dad. The other is about reflecting on the good times in life,e enjoying family, friends and making everyday a good one. As far as by biggest collabs, id have to say it's between "No Suckaz Allowed" ft Ty Bru & Sadat X & "Bricks To The Beats" ft Rittz. "No Suckaz Allowed" was one of the most well received records I've had by far. It landed on The Source, URB Mag, AllHipHop, etc. "Bricks To The Beats" was the song that made my fans & supporters start asking for a new album. That's when the "Guerilla Grind" Album series started.
Mistajay: You have performed with ASAP Rocky, Tech N9ne, Murs Bone Thugs N Harmony, Caskey ASAP Ferg, ASAP Twelvy, KRS-One, Public Enemy, Dana Dane, Wiz Khalifa, Yelawolf, Big Krit, Kotton Mouth Kings, RJD2 and many more If you could share the stage with any other 3 artists or bands who are still around and touring, who would they be and why?
EdE.Ruger: Eminem, Run The Jewels & Kendrick Lamar. That would be a sold out stadium show full of extremely diverse MC's that would bring huge crowds of all types of people. All people that know how to make political statements, talk to future generations, but still know how to have a good time and party at the same time. I just feel like you'd leave that show with memories that would last forever. Outkast would've been my first choice but they don't really tour too much now.
Mistajay: You have landed songs on award winning tv shows The Boondocks Cartoon, AMC's Breaking Bad, ROH Wrestling & TMZ how do you make that happen and what effect has I had on your music?
EdE.Ruger: It's been amazing. Honestly it's alot of the reason I've been able to make moves like I have. The TV placements take you a long way. People who could care less about hip hop or music in general know about these shows. It opens up a whole other world of opportunities.
Jon Jackson, who is one of my best friends, who has produced the majority of the music Ive done, is the music director for The Boondocks Cartoon. He called me in to help quite a few times & something finally landed. As far as Breaking Bad, DubKiller, who is another producer I've worked very closely with for years, just happened to be in the studio with some reps who worked for Breaking Bad. They asked for electronic music with hip hop beats. At the time Dub Step was in its early stages & we had tons of it. So, we made it happen. It was pretty much just a case of who you know & being in the right place at the right time. Huge thanks to DubKiller & JJ. I wouldn't be where I am without those 2 guys.
Mistajay: A lot of artists come into the game with a lot of ambition but don't spend time learning the business side. How important to you is learning about publishing and royalties?
EdE.Ruger: Make sure you register everything through ASCAP or BMI. Royalties are a great thing. Everytime a show gets played with our song on it we get paid. But honestly, there is alot more to the business side that people don't see. Branding yourself is huge. Make yourself bigger than just music. Monetize your brand with merchandise & sponsorships. Sponsorships go along way in expanding your fanbase while branching out into other business ventures. Promotion is another one of the main things artists overlook. There is a ton of stuff on the business side that most of the artists in the business miss. Until you learn the business side, the music side will be stagnant. One thing I tell everyone is that when I realized I was in the Ruger biz, not the music biz, I started seeing success.
Mistajay: Where do you see the hip hop going in 2017? How do you see yourself fitting into that?
EdE.Ruger: Hip Hop has broken up into alot of subgenres over the past few years. It seems like there is a bigger gap than ever between the underground and the mainstream. Which has lead to alot of success on the indie scene. It seems like artists that have more control over their vision, direction and product, stand the test of time. The labels are just forcing 1 hit wonders down our throats that won't be hear next summer. So, I'm just gonna do what ive always done. Stay independent & make my own lane. If it ain't broke, don't fix it.
Mistajay: What are your future plans?
EdE.Ruger: This year I plan on releasing 2 possibly 3 more projects. This being DuBBoro with Phillie Phresh, Brown Bag 2 with Ty Bru & Phillie Phresh & my next solo album Rediculoud. On top of that, I'm working on taking my clothing line, Hip Hop Dad's, national. I also plan on bringing alot of big shows to Greensboro this year. In the past year I've booked, Obie Trice, ¡MayDay!, Wax, Blind Fury & few more. This year I'm trying to go a little bigger. I can't wait for 2017.
Mistajay: Any last thoughts?
EdE.Ruger: Thank you for reaching out. Thank you to everyone who is reading this. Shout out to all the artists out there grinding. Shout out to Phillie Phresh who's been there for every step of this journey. Shout to Iconoclast, Livewire, MTTS, & all the crews I rock with. Now, Go grab my latest album "Guerilla Grind Pt 2 : The Token" now! All 7 of my albums are available on EdERuger.Bandcamp.com
Mistajay: Where can fans follow you and get your music?
EdERuger.com
Pandora - Ed E. Ruger Radio
Spotify - Ed E. Ruger
YouTube.com/IconoclastCrewTV
SoundCloud.com/EdERuger
And of course iTunes,Amazon, Tidal, Beats, Google Play, iHeartRadio, AppleMusic & all your favorite digital outlets
NEXT MONTHS INTERVIEW TBA!!!!
Mistajay is doing a monthly interview feature the underground experience on the blog www.empiremusiq.com/blog and would like to interview you for this new post please contact nccceo2@yahoo.com to publicize any new projects that you have coming up thanks for your time. Donate or pay $50 dollar interview fee below!!
https://www.paypal.com/paypalme/NCCRecords910INC