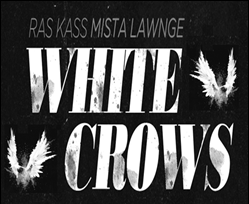 THIS MONTHS FEATURE IS A BI COASTAL DUO OF HIP-HOP LEGENDS ONE OF WHICH SPOKE THIS GROUP INTO EXSISTANCE LETS TAKE FLIGHT WITH………………..THE WHITE CROWS
What is the story and conception behind your emcee name? A comedian once told me a joke that involved a pimp that was named "The Sugar Dick Daddy". I thought it was hilarious and it fit with the comedic style of Black Sheep skits on our album. So I went with it and renamed it to "The Sugar Dick Daddy Mista Lawnge(Long)" And I like to leave it there. I later shortened it to Mista Lawnge then later started using Mr. Long because people could not pronounce the name.
What area are you reppin? What is the hip hop scene like there? I'm reppin for the Hip Hop genre, not any particular geographic area. I like to base it on true talent no matter what part of the World it's in….. I'm currently on the West coast and there is a big underground scene. I'm glad to see the love that I receive when I go to the venues here.
What are your influences of your music? And what inspires you? Hip Hop Producers influenced me when I was a very young DJ. Producers like Marley Mal, Vance Wright, Ced Gee from Ultra Magnetic and Jazzy Jay from the Bx.
How do you describe your style? Ras likes to call it "Back Pack Rachet TM". I like to challenge myself but stay true to my style of sampling records which was the basis for Hip Hop.
What is your best song recorded to date and why? I guess the best would be the biggest… "The Choice is Yours". I enjoyed doing the production for this song. It became a classic that still gets fans excited and on the dance floor which was/is my goal as both a DJ and Producer.
Collectively between the two of you have worked with Canibus, Killah Priest, and Kurupt & Native Tongues If you could share the stage with any other 3 artists or bands who are still around and touring, who would they be and why? Wu Tang Clan with Meth and Redman. I have always liked high energy shows that make sure the fans are entertained which these artists bring.
Established in 2013, The White Crows is one of the first Bi-coastal duos consisting of a-known & respected Rapper/Lyricist (West Coast) & a well-known & respected Hip Hop Producer (East Coast) What brought this white crows project together what was the catalyst for this union? Ras Kass spoke it into existence at the beginning of a song that I produced on his Barmageddon album called "Sometimes." When I moved to LA, we connected and ran with it from there forming "The White Crows."
A lot of artists come into the game with a lot of ambition but don't spend time learning the business side. How important to you is learning about publishing and royalties? The Business should come first in "Show" Business particularly the music business. It seems that more artists are wiser than before which is good. When you have your business in order then the Show never ends. I will say that you definitely need a good team around you that has your back too. I have to leave the rest for my book.
Being that both of you are artists who where formerly signed to a major label who are now indy what do feel are the differences or benefits, pitfalls of both? The main benefit is the freedom with no restraints as an indie artists but the pitfall is that there's no financial machine behind you to cover expenses and it's all on you and your team to make it happen. The good thing is we have social media now. Artists have to use it….alot.
Mistalawnge with your strong ability to manipulate technology and the understanding of quality and classic music give me some of your thoughts on todays production and sound? It's a couple of things out there that I can tolerate. Not much though…more of this in my book.
Where do you see the hip hop going in 2014-15? How do you see yourself fitting into that? It would be nice to truly know where it's going but hey, Styles change with the wind today so I do not know. My goal is to fit in as True Talent in this business called music.
The singles kick rocks Something R.E.A.L. and Far From Good are your first salvos out the box what made you pick those as your initial offerings from you upcoming project? Those songs were picked to showcase the production and lyrical style more so than anything else. To give the fans of Hip Hop a preview of what's yet to come.
What the name of the album and what do you hope to accomplish with this album? The working title of the White Crows album is "Eat Crow." We hope to bring this generation true Hip Hop that's both energetic and classic.
What are your future plans? Release "The White Crows" album. We want to keep it Hip Hop and be successful and respected for what we're doing. Also, the release of my book in 2015 entitled "Who's the Black Sheep? – The UNTOLD Truth".
Any last thoughts? Music is an opinion based career and opinions are like a_ _holes. Everybody's got one and they think that their S--t is HOT. Pun intended. Stay true to your talent, don't give up, handle your business and everything else will fall into place.
Where can fans follow you and get your music? Twitter: @RasKass @MrLong2015 and our website www.WhiteCrowsMusic.com.
NEXT MONTHS INTERVIEW THE Fly Academic!!!!
Mistajay is doing a monthly interview feature the underground experience on the blog www.empiremusiq.com/blog and would like to interview you for this new post please contact nccceo2@yahoo.com to publicize any new projects that you have coming up thanks for your time. Donate or pay $50 dollar interview fee below!!
https://www.paypal.com/cgi-bin/webscr?cmd=_s-xclick&hosted_button_id=7SCDVFQGYT32L