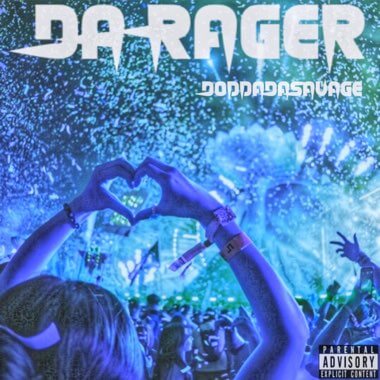 This Months feature is an artist with a wide array of influences to drawn from to create his
Own musical world lets travel with…… DoddaDaSavage
Mistajay: What is the story and conception behind your artist name?
DoddaDaSavage: Well Savage was actually a nickname that was given to me when I was younger due to some events thts transpired and Dodda was also a nickname among certain friends so I mixed em together when I started doing music that's how it all began.
Mistajay: What area are you reppin? What is the hip hop scene like there?
DoddaDaSavage: Right now I live in West Florida but I've lived in alot of places, and it's mainly just trap and drill music in the area I'm in. My style and vibe are very different from everyone on the music scene around here right now fasho, but there are some very talented artists that work really hard in the area to they are just harder to come by though.
Mistajay: Doing Genres Such As Emo, Trap, Punk, R&B, Electronic, and Hip Hop… What are your overall influences of your music? And what inspires you?
DoddaDaSavage: I have alot of different influences so it's hard to pick as you can tell from my music, I like a variety of genre. But just naming some off I'd say Kid Cudi, Chief Keef, Juice World, Wiz Khalifa, Post Malone, Lil Tracy, Mgk, Mac Miller, L.A Capone, Gucci Mane, Lil Uzi , Eazy E & Prince are some of the top inspirations for me though. What inspires my music is the trials, & tribulations of my life, moods I'm feeling and just wanting to inspire others and know they ain't alone and love plays a really big factor as well.
Mistajay: You Stated that you Freestyle from The Soul On Almost Every Song Dropping Song… How do you describe your style of hip-hop?
DoddaDaSavage: Idk unique I guess, I just like to express myself and do my own thing, plus I just do whatever I'm feeling at the time.
Mistajay: Songs Such As "Contagious", "Living Hell", "Da Rager", "Ricky Bobby Anthem". With Your Album "My $avage World"… What is your best song recorded to date and why?
DoddaDaSavage: It's hard to choose because each song I make has a special place with me. I always think the song I'm working on is my best until I get a new idea then I think the next one is my best lol.
Mistajay: If you could work with any other 3 artists or bands who are still around and touring, who would they be and why?
DoddaDaSavage: Mhm that's a hard one but I'd say Chris Brown is number 1 fasho that dude always put on a hell of a show. Then I'd say Kid Cudi would be my number 2 , and then it's between Tokyo's Revenge or Trippie Red on the 3rd pick. This was a hard choice as well because there's so many artists that I would like to work with really.
Mistajay: A lot of artists/producers come into the game with a lot of ambition but don't spend time learning the business side. How important to you is learning about publishing and royalties?
DoddaDaSavage: I agree 100% most artists don't even try to learn any of that stuff and that's a big problem. I still have alot to learn but I try my best to learn as much as possible about the business side.
Mistajay: Where do you see the hip hop going in 2020? How do you see yourself fitting into that?
DoddaDaSavage: I see alot of game changer music changing the hip hop scene lately mixing different vibes and genres. I like seeing variety of skills and talents being shown off in different ways so some people may not like it but I do alot.
Mistajay: Since you have started what doors have been opened for you? What expectations did you have before this and for your next project?
DoddaDaSavage: I have alot of goals but I don't like to expect nothing from anyone or anything I just try my best and hope for the best I make music 2 express myself and for the love of music and to attempt at trying to make the world a better place. I do hope with my upcoming mixtape I'm able to comfort people going through similar tribulations and feelings in their own lives .
Mistajay: How has covid 19 situation affected your plans as related to music?
DoddaDaSavage: I've had some pushbacks because of it most definitely but we still working , wanna give a big shout out to my producer and friend Phlow.
Mistajay: You Have a EmoTrap Song Called GTFO Ft Jeffrey Alexander That Will Be Coming Soon What Are Your Other Future Plans?
DoddaDaSavage: Yeah GTFO is actually already out its now available on almost all streaming platforms, so make sure to keep an eye out for it. Also I got a upcoming smooth song wit King.S called "Let Me Be" and a super aggressive banger called "MAD!!!" On the way. They both are going to be on my mixtape as well. and u can definitely make sure to keep an eye out for more music with my homeboi Jeffrey Alexander in the near future 2.
Mistajay: Any last words?
DoddaDaSavage: Yeah thanks for your time on the interview really means alot to me & all of Savage World. I wanna give a big shout out to all my fans love y'all without y'all none of this would even be possible.
Mistajay: Where can people find your music?
DoddaDaSavage: It's available on all streaming platforms. My YouTube channel is the most poppin place though.
NEXT MONTHS FEATURE TBD Celebrating 10 Years of the Underground Experience Feature !!
Mistajay is doing a monthly interview feature the underground experience on the blog www.empiremusiq.com/blog and would like to interview you for this new post please contact nccceo2@yahoo.com to publicize any new projects that you have coming up thanks for your time. Donate or pay a $50 dollar interview fee below!!
Create a link to this URL https://www.paypal.com/paypalme/NCCRecords910INC
Using this text: "Pay NCC Records INC using PayPal.Me"